Grab your tickets to an out-of-this-world party on October 24 featuring incredible live entertainment, dancing, and VR experiences! Mingle with our stellar special guests and enjoy drinks and food from an array of local establishments.
Including crowdsourced art projects for you to create, cosplayers mingling, pop-culture performance art, and more!
Explore all of time and space
Check out fragments from dinosaurs, exotic gems, and even a piece of the Apollo 11 spacecraft all in the palm of your hand thanks to the Mini Museum.
Food and drinks served up by some of the best local restaurants and bars in DC!
Check out our sponsors below for more details!
For many, many, many, many, many, many years, you have been part of an elite team of bipedal hominids as crew on our beautiful, incredibly complex Spaceship Earth. Flying at over 490,000 MPH around the galactic center, the Earth offers incredible views of our celestial neighbors, provides us with water, energy, and can operate for millennia. In other words: It's time to celebrate!
Yuri's Night @ IAC 2019 will be filled with dancing, drinks, art, costumes, and all things space. You might bump into an astronaut, celebrity, rocket scientist, or astrophysicist. DJ's will be spinning as we celebrate space & the power to bring us all together here on Spaceship Earth. ROCK THE PLANET!
SPACE AMBASSADORS
We are assembling a group of diverse and engaging individuals from around DC and the aerospace community to mingle with you during the party! Yuri's Night Ambassadors will be at the event in their dashing red sashes to help you find them easily. Please go up to them anytime during the night and ask your favorite space questions!
Kelly Carnes | CEO, Trove - Kelly Carnes describes Halloween as a "lifestyle" which is why she founded Trove, the world's first peer-to-peer costume rental platform, where users can rent out their costumes and make money, or rent other's costumes and save money.
Therese Jones | Senior Director of Policy, Satellite Industry Association - Therese worked as an "extragalactic astronomer" —an astrophysics researcher focusing on galaxy formation and evolution—before moving into space systems analysis and eventually space policy. Therese also came in a close second place on an episode of Jeopardy!
Rachel Lyons | Executive Director, Space for Humanity - Rachel is committed to providing opportunities for people of diverse backgrounds to get involved in space – both for the future of humanity, and for our world today. Prior to joining Space For Humanity, Rachel served as as Vice Chair of the Board of Directors for the Students for the Exploration and Development of Space (SEDS).
Jessy Kate Schingler | Director of Policy & Governance at Open Lunar Foundation - After co-founding the Space Generation Advisory Council to the UN, working on software with NASA, and creating intentional living spaces, Jessy is now designing and executing precedents in early lunar activities through engineering and policy.
Madi Sengupta | Senior Advisor, FAA Office of Commercial Space Transportation - Madi currently supports senior leaders in the FAA in a variety of capacities. She previously worked at the AIAA bringing the IAC to Washington, DC. Madi is also a former robotics instructor for NASA, teaching astronauts how to use robotic systems during their spaceflights.
Lauren Worley | Fearless Communicator - Lauren is creating the next generation of space explorers in Cincinnati, where she and a group of kids are planning a round-trip mission to Mars. She previously worked with The ONE Campaign and was Press Secretary and Senior Advisor at NASA.
Nancy Wolfson | Co-Founder-President, Disrupting Space - Nancy is currently Vice Chair of the International Astronautical Federation's (IAF) Technical Committee on NEOs, contributing to the International Asteroid Warning Network (IAWN). She is an independent researcher and published author; speaker and artist; entrepreneur and co-founder of Disrupting Space LLC.
Alicia Woodley | Counsel, Axiom Space - Alicia received a BA from Brown University, an MBA from Wharton, a JD from Harvard Law School, an MA in International Studies from the U Penn's Lauder Institute, and completed the International Space University SSP Program in 2016. In her spare time Alicia Woodley serves as the Managing Partner of Etropy, LLC, supporting human technologies startup ventures.
YURI'S NIGHT @ IAC 2019 HOSTS
Co-Founder of Yuri's Night
Author of "The New Right Stuff"
Motivational Speaker
Virgin Galactic Future Astronaut
Executive Director of Yuri's Night
Parabolic Flight Crew Member
Primary Catalyst at Nova Bailey Consulting
Innovation Instructor at JMU X-Labs
Robotics Entrepreneur
Maker and Breaker of Many Things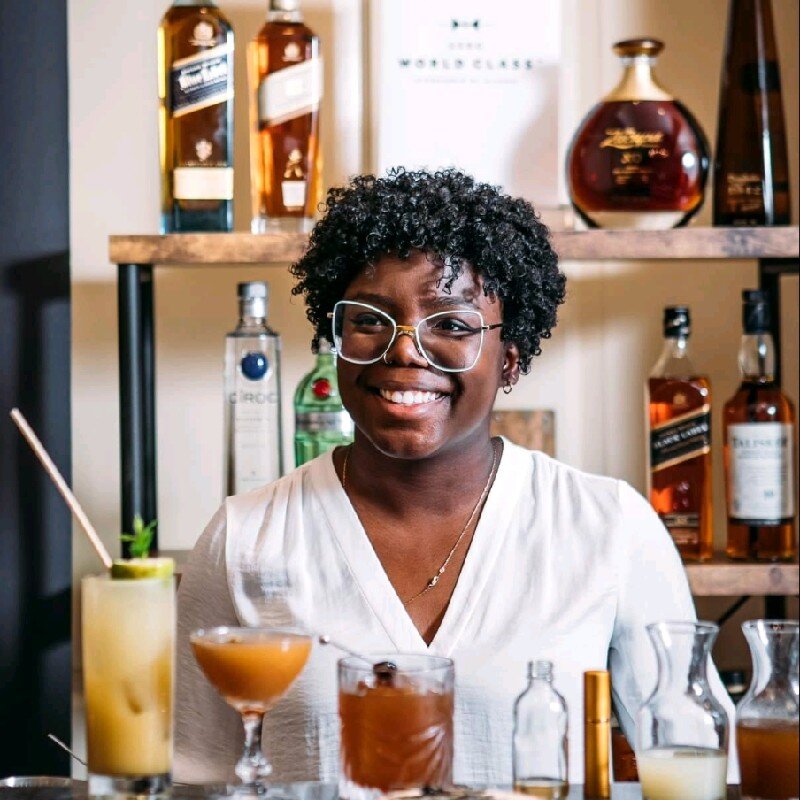 Bar Director at Dos Mamis in DC
Award-Winning Cocktail Consultant
Mission Specialist for Food and Beverages
FAQ
Will there be food?
We will have delicious bites from a variety of local restaurants. These are intended as small tasting portions, so you should grab dinner before you arrive. There are several restaurants next door and around the corner that serve until 11pm!
What should I wear?
We have a space themed-nightclub vibe that encourages costumes, play/cosplay and self expression! You can wear black pants or galaxy leggings, your favorite Sci-fi costume, or what you would wear to a nightclub on a Saturday night. Coming straight from the IAC to Yuri's Night? Then you're already in costume as a space professional!
Is this an all ages event?
Since this is a night club environment we don't encourage people to bring kids. But just like at Burning Man, some people will. If you would bring your kids to Burning Man, feel free to bring them to Yuri's Night. We are only checking your age if you want to drink.
Special Thanks to our Presenting Sponsor
Additional Support Provided By:
Food and Beverages Sponsored By:
What is YURI'S NIGHT?
On April 12, 1961, Yuri Gagarin became the first human to see the Earth from space. Twenty years later, on April 12, 1981, Bob Crippen and John Young launched the era of reusable human spacecraft aboard Space Shuttle Columbia. In 2001, a group of students and young professionals kicked off a series of global parties marking this epic anniversary of human spaceflight. The United Nations officially recognized April 12 as the International Day of Human Spaceflight in 2011, the 50th anniversary of Gagarin's flight. In 1,000 years we may not remember many of our current holidays, but the day humanity first took to the stars will certainly still be celebrated!
Yuri's Night has evolved into a grassroots annual event with hundreds of parties around the globe (and beyond!) centered around April 12. In the US, a 501c3 non-profit organization promotes global participation and produces events in Los Angeles, CA, and along the Space Coast in Florida. Local groups, science centers, museums, NGOs, and other non-profit groups also produce events in the US and worldwide. The Yuri's Night name, logo, and resources are available for use for anyone that wants to host an event!
This year an *epic* Yuri's Night party will take place in Washington, DC, on October 24, 2019, to celebrate the International Astronautical Congress. Come join us to celebrate the excitement of human space exploration and the gathering of so many incredible space professionals in one place!
"Circling the Earth in my orbital spaceship,
I marveled at the beauty of our planet.
People of the world,
let us safeguard and enhance this beauty--
Not destroy it!"
- Yuri Gagarin,
1st human in space, April 12, 1961